Post by Taylor Manson on Nov 1, 2013 19:01:53 GMT -5
I chose to do my November culture project on legendary fashion designer Christian Dior who was born January 21st, 1905 in Granville, Manche, France. His fashion line is called Christian Dior but mostly known as simply Dior. Here is a link to his fashion website www.dior.com/home/en_us . He was from a wealthy family that lived in Granville, a seaside town on the coast of Normandy, France. He was the second child out of five kids born to Alexandre Louis and Maurice Dior. His parents were the owners of a highly successful fertilizer company. Dior's family moved to Paris, where he had spent his youth.
Dior was passionate in art and wanted to become an architect. He submitted to pressure from his father and in 1925 enrolled at the École des Sciences Politiques to study political science. After his graduation in 1928 Dior opened a small art gallery with money he received from his father who had agreed to give him financial support as long has the family name did not appear above the gallery door. But sadly he was forced to close the gallery due to the death of his older brother and mother and the financial collapse of his father's business.
When World War 2 began Dior served in the south of France as a officer in the French army. When France surrendered to Germany Dior returned home and he was soon hired by couturier Lucien Lelong. During this time, Dior's sister Catherine was working for the French Resistance but she was later captured and sent to a concentration camp. She survived the camp and was eventually released in 1945.
On December 8th 1946 Dior founded his fashion house backed by Marcel Boussac. The name of his first collection line was called Corolle in early 1947. Below are some pictures of his clothing line from 1947 to now.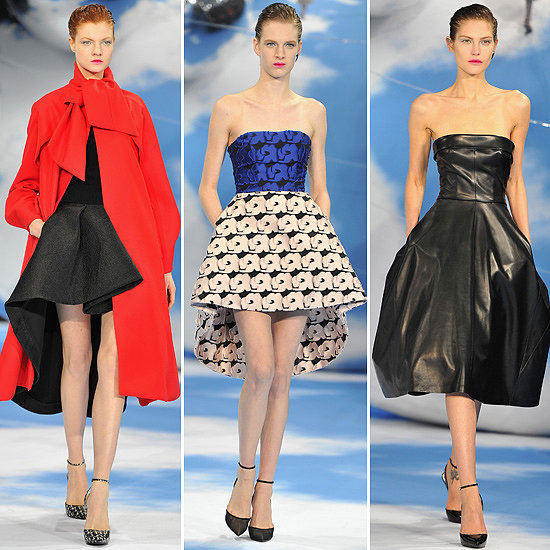 The House he lived in which is now a museum and the place where he is from:
Christian Dior died while on holiday in Montecatini, Italy in October 23, 1957 at age 52. They know that he died of a heart attack but some said he died from different reasons like, he had a heart attack while he was choking on a fish bone. Time magazine said he died of a heart attack after playing a game of cards. Also, a Paris socialite and a Dior acquaintance stated in his memoirs that the contemporary rumor is that the fashion designer had an heart attack after a sexual encounter. Some even think he died of a seizure. To this day it remains unknown how he died. To learn more about Christian Dior you can visit this site:
en.wikipedia.org/wiki/Christian_Dior .